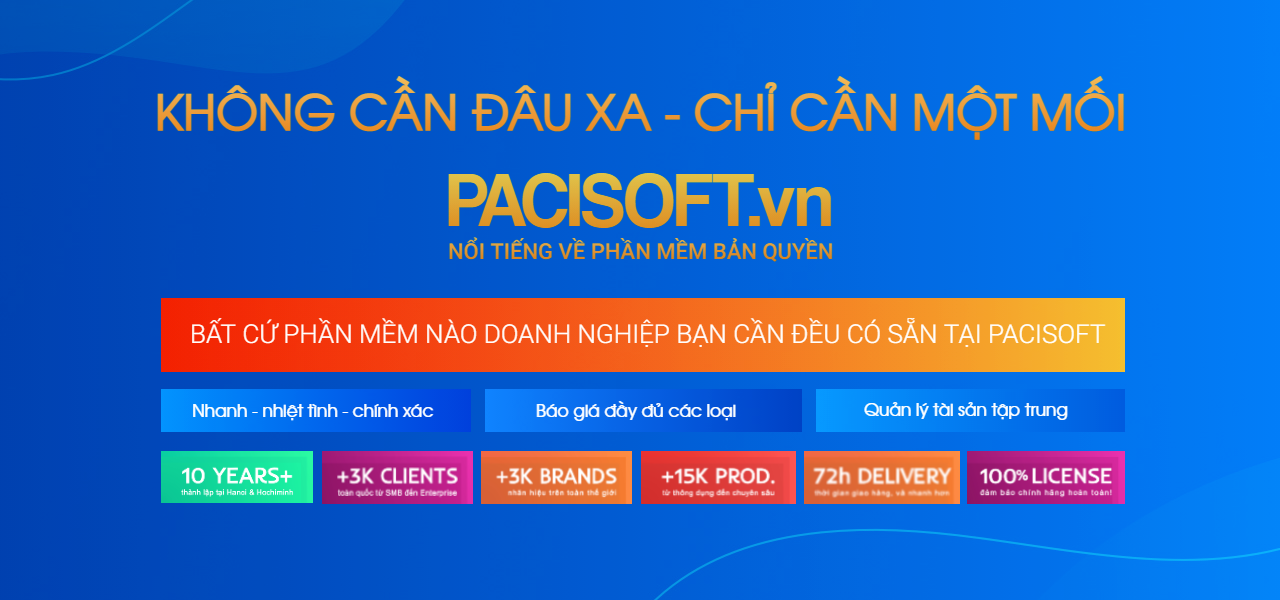 Không cần đầu xa - Chỉ cần một mối. Mua tại PACISOFT
Sứ mệnh của chúng tôi trong nhiều năm liền là đưa sản phẩm bản quyền & dịch vụ CNTT đến doanh nghiệp, để giúp bạn vận hành nền tảng CNTT hiệu quả, năng suất và tối ưu chi phí, đồng thời hợp thức hóa bản quyền phần mềm.
10,000 sản phẩm, 3000 brands, 11 năm phân phối
Hơn 1000 khách hàng chọn PACISOFT để mua phần mềm mỗi năm. Bất cứ phần mềm nào bạn cần, tìm là có!
Đơn giản chỉ cần Chat hoặc Email/ Điện thoại
Quý khách sẽ nhận được báo giá ngay!
Adobe, Microsoft, Autodesk, WPS Office, ZWSOFT, Vmware, Oracle, Trend Micro, Mcafee, Broadcom/Symantec, Foxit, Nitro, Teamviewer, Miro, Figma, Rhino 3D, PTC, ThinkDesign DPT …hơn 12 năm qua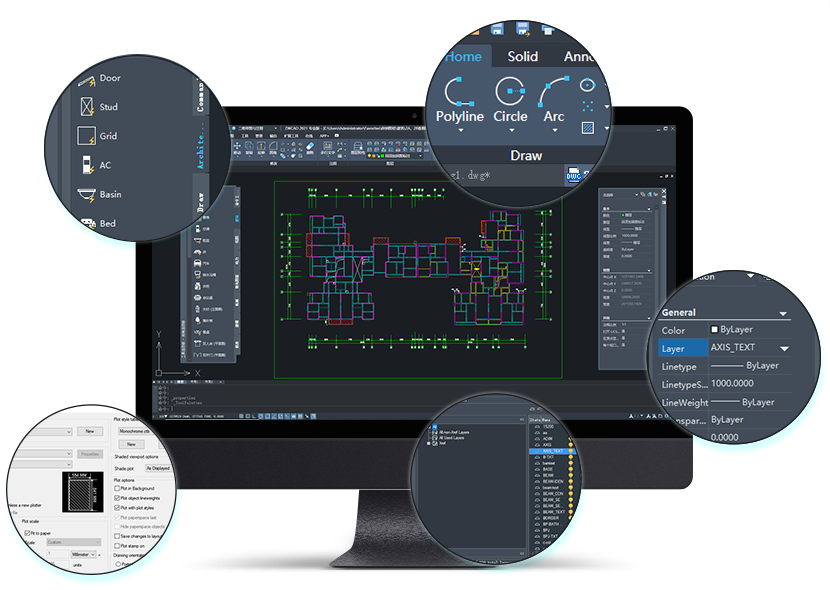 Phiên bản mạnh mẽ, nhanh hơn và thân thiện hơn với các tính năng và cải tiến mới cả 2D và 3D.
Khách hàng từ Bắc đến Nam, đại lý cấp 1, 2
Chỉ bán hàng doanh nghiệp. Hơn 6.800 KH đa ngành nghề. 150 đại lý.  Phục vụ KH có từ 1 đến hơn 1000 máy tính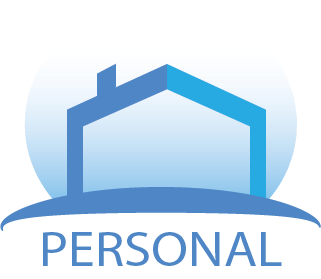 Cung cấp các giải pháp phần mềm cho phân khúc Individuals với giấy phép bản quyền máy đơn (Node-lock, Single User License) hoặc Multi-user (Floating/ Network license)
Số lượng từ 1 – 49 PCs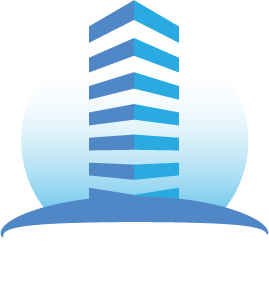 Cung cấp các giải pháp phần mềm tốt nhất cho phân khúc SMB từ các công ty phần mềm hàng đầu Thế Giới. Tối ưu hệ thống công nghệ thông tin của bạn một cách toàn diện.
Số lượng từ 50 – 499 PCs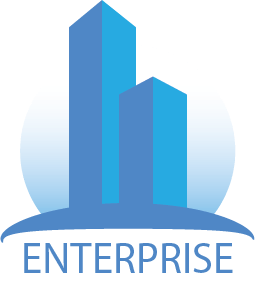 Cung cấp giải pháp công nghệ thông tin chuyên nghiệp cho phân khúc Enterprise. Hãy để chúng tôi là đối tác thành công của bạn.
Số lượng trên 500 PCs





Tin sản phẩm & Tin khuyến mãi
Bài viết hữu ích. Thông tin chính xác. Biên tập chính thống. Đội ngũ sáng tạo.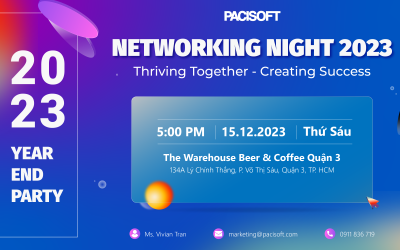 PACISOFT Networking Night 2023 Chỉ duy nhất vào tháng 12 này! Sự kiện thường niên được...
Sản phẩm phong phú. Loại gì cũng có
Giá hợp lý. Bao giá thị trường. Hàng full VAT chính hãng 100%. Giao hàng nhanh nhất Việt Nam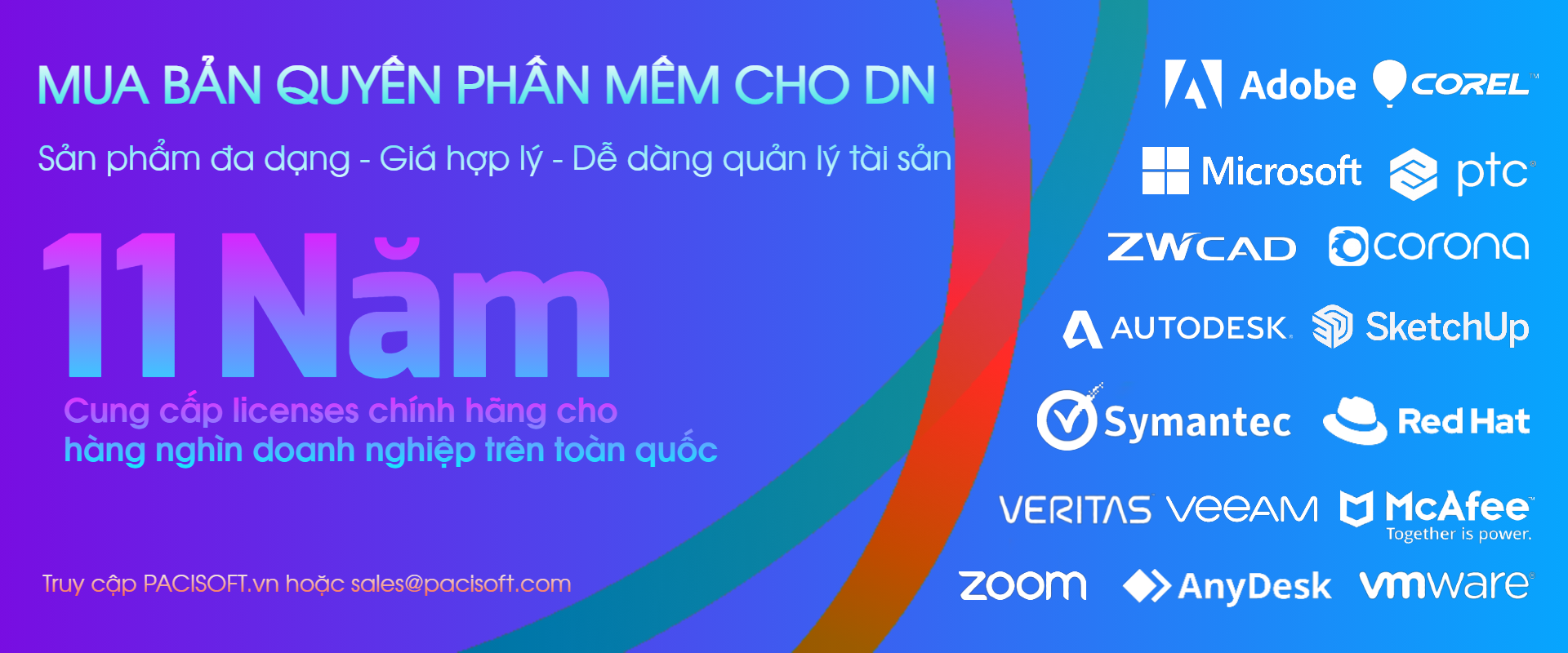 KHÔNG CẦN ĐÂU XA – CHỈ CẦN MỘT MỐI
PACISOFT.vn – NỔI TIẾNG VỀ PHẦN MỀM BẢN QUYỀN
Nhà cung cấp phần mềm thị phần hàng đầu Việt Nam nhiều năm liền.
Theo số liệu báo cáo bán hàng từ các hãng và NPP chính thức tại VN. PACISOFT thuộc TOP dẫn đầu ngành
BẤT CỨ PHẦN MỀM NÀO MÀ DOANH NGHIỆP BẠN CẦN ĐỀU CÓ THỂ TÌM THẤY TẠI PACISOFT.VN
NHANH – NHIỆT TÌNH – CHÍNH XÁC
DỄ DÀNG QUẢN LÝ TÀI SẢN TẬP TRUNG
Bạn chưa chọn được sản phẩm phù hợp?
Hãy để PACISOFT tư vấn cho bạn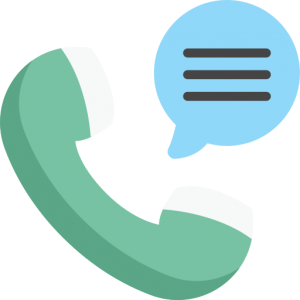 Điện thoại
02432 028 112 ♥ 02836 229 885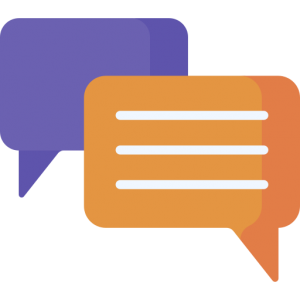 TOP SOFTWARE BRANDS & PRODUCTS
BẢO MẬT, VIRUS
Antivirus Software: Norton Lifelock, Eset Smart Security, Kaspersky Internet Security, Malwarebytes for Business
Endpoint Protection Suites/ Endpoint Management: Symantec, McAfee MVISION Endpoint Security, Trend Micro, Kaspersky, Bitdefender, CrowdStrike Falcon, SentinelOne, Microsoft MDE, Malwarebytes Endpoint Protection, ESET PROTECT Advanced, Sophos Intercept X: Next-Gen Endpoint, Vmware Carbon Black, Harmony Endpoint, GFI Software, Check Point, Imperva, FortiClient
Application Security Testing Software: Burp Suite Professional, Veracode, CxSAST, GitHub Enterprise, Web Application Scanning (WAS), Acunetix, Netsparker by Invicti
Quét lỗ hổng bảo mật: Acunetix, Burp Suite, GFI Languard, Frontline, Nessus, Nexpose, Tenable, Qualys Guard, IBM Security QRadar, Detectify Deep Scan
ENDPOINT DETECTION AND RESPONSE (EDR)
Singularity Platform by SentinelOne | Falcon |  Microsoft Defender for Endpoint (MDE) |  Trend Micro XDR | VMware Carbon Black EDR | Symantec Advanced Threat Protection | Kaspersky Anti Targeted Attack Platform (KATA) | Malwarebytes Endpoint Detection and Response | Kaspersky Endpoint Detection and Response (KEDR) |  McAfee Endpoint Threat Defense and Response | ESET Enterprise Inspector | FireEye Endpoint Security (HX).
DATA SECURITY
Data Center Security: FortiGate NGFW, Symantec Data Center Security, McAfee Data Center Security Suite for Databases, Trend Micro Deep Security.
Data Loss Prevention (DLP): Symantec Data Loss Prevention, Forcepoint DLP, McAfee DLP Endpoint, McAfee Total Protection for Data Loss Prevention, McAfee Complete Data Protection GTB Technologies DLP, Safetica DLP, Fidelis Network, Digital Guardian DLP, Trend Micro Smart Protection, PA File Sight
Database Security: SAP SQL Anywhere, HashiCorp Vault, McAfee Data Center Security Suite for Databases, Oracle Advanced Security, McAfee Vulnerability Manager for Databases
CAD & PLM, CAM
CAD 2D, 3D:  ZWCAD, ZW3D, DraftSight Professional, DraftSight Std, DraftSight Premium (Network), AutoCAD LTD, AutoCAD, PTC Creo Parametric, Creo Elements/Direct Modeling, Vectorworks Fundamentals,  Onshape, SketchUp, AutoCAD LT, Siemens Solid Edge, Inventor, DraftSight, CMS IntelliCAD, BricsCAD, MicroStation, CADWorx, Autodesk AEC, CorelCAD, SOLIDWORKS (Premium, Professional, Standard)
3D Architecture: ARCHICAD, MicroStation, IDEA Architecture, Bluebeam Revu, AutoCAD, SketchUp, AutoCAD Architecture, Lumion, VectorWorks Architect, Tekla Structures, Enscape
Computer-Aided Manufacturing (CAM): ZW3D, PTC Creo, SolidWorks CAM (Standard, Pro), CAMWorks, NX CAM, Mastercam, PowerMill, Cimatron, GibbsCAM, CAM350, AlphaCAM, edgeCAM, MecSoft VisualCAM, RhinoCAM, AlibreCAM, SprutCAM, CAM-TOOL, Fusion 360, SolidCAM, Inventor CAM, hyperMILL, FeatureCAM, Hexagon, Hexagon Worknc, Surfcam, Visi CAM,  FOLLOW-ME! – hyperDENT®, BobCAD-CAM, BobCAM for SOLIDWORKS™, BobCAM for RHINO, ESPRITCAM, TopSolid'Cam, TopSolid'Design, Solid'Steel, TopSolid'Wood, TopSolid'Sheetmetal, TopSolid'Mold, TopSolid'Progress, TopSolid'Inspection, TopSolid'PartCosting, EZCAM,
CNC: SigmaNest, ProNest, FastCAM, SheetCAM, Robotmaster®, Design2Fab®, Rotary Tube Pro™, Phoenix®, Hypertherm SigmaNEST, SigmaTUBE, SigmaTUBE SW, SigmaBEND, SigmaCTL, SigmaDEVELOP, SigmaUNFOLD, SigmaDSTV, OneCNC.
BIM: AutoCAD, ZWCAD Architecture, Revit, SketchUp, Archicad, Navisworks, AutoCAD Architect, AutoCAD MEP, Aurora, Vectorworks Architect, Vectorworks Designer, Vectorworks Landmark, AutoCAD Plant 3D, STAAD.Pro, Tekla Structures, SolidWorks Electrical 3D, Civil 3D, MicroStation, Autodesk Architecture, Engineering & Construction Collection (AEC), Autodesk PDM, ArCADia, RAM Structural System, Tekla Structural Designer, Allplan Engineering.
Civil Engineering Design: Civil 3D, MicroStation, GeoHECRAS, OpenRoads Designer, OpenFlows WaterCAD, Site3D, Carlson Survey, CityEngine, Civil Designer, RoadEng Civil Engineer, Autodesk InfraWorks 360.
PCB Design/EDA: Altium Designer, Fusion 360, NI Multisim, KiCad EDA, Autodesk EAGLE, DipTrace, Ultiboard, ExpressPCB Plus, EasyEDA, CAM350, OrCAD Capture, OrCAD PCB Designer, Altium CircuitMaker, PADS PCB Design Software
MEP: AutoCAD MEP, Revit MEP, HEC-RAS, AutoPIPE, Advance Steel, SolidWorks Flow Simulation, MagiCAD, SolidWorks Electrical Professional, Vectorworks
Product and Machine Design: Rhinoceros 3D, ZWCAD Mechanical, ZW3D, PTC Creo, Altium Designer, SolidWorks Simulation, SolidCAM, IronCAD, PTC Creo Elements/Direct Modeling, Fusion 360, Onshape, Inventor, Solid Edge, CATIA, SolidWorks 3D CAD, AutoCAD Mechachinal, Siemens NX, KeyCreator
Product Data Management (PDM): PTC Windchill, Windchill PDMLink, Oracle Product Master Data Management Cloud, Altium Concord Pro, Solid Edge, Autodesk Vault, Solidworks Standard/ Manage/ Professional
PLM: PTC Windchill, PTC ThinkWorx Navigate, PTC FlexPLM, PTC Creo View, PTC Arena (business)
Simulation & CAE: PTC Mathcad Prime, Creo Simulation, Solidworks Simulia/ Plastics/ Flow Simulation, MATLAB, Fusion 360, Solid Edge, Simulink, SimScale, Moldflow, Altair OptiStruct, Altair Hypermesh, Altair HyperWorks, C3P Cast-Designer, Moldex3d, Sigmasoft Thermoplastic, Elastomer, LSR, Thermoset,
Thiết kế, quy hoạch đô thị: SketchUp, Lumion, CityEngine, ArcGIS Urban, Bentley OpenCities Planner, CityCAD.
BARCODE/ LABEL PRINTING
BarTender, NiceLabel, ZebraDesigner, Tec-IT TFORMer, Tec-IT Barcode Studio, TEKLYNX CODESOFT, LABELVIEW, LABEL MATRIX
THIẾT KẾ TRANG SỨC
Gemvision MatrixGold (hợp nhất Matrix và RhinoGold), WizeGem, CounterSketch, Rhino 3D, Clayoo.
PHẦN MỀM TỐI ƯU CẮT VẬT LIỆU
CutLogic 2D, Cutting Master, Graphtec Pro Studio PLUS, Smart2DCutting, Magi-Cut
EMAIL SECURITY
Secure Email Gateway/Cloud Email Security : Mimecast Email Security with Threat Protection, Proofpoint Email Security and Protection, Barracuda Email Security Gateway, SpamTitan Email Security, Sophos Secure Email Gateway, FortiMail, Mdaemon Security Gateway, McAfee Security for Email Servers, ESET PROTECT Complete, Symantec Messaging Gateway, Symantec Email Threat Detection and Response
Email Anti-spam: Eset, Symantec, Proofpoint Email Security and Protection, Avanan Cloud Email Security, SaneBox, SpamTitan Email Security, Area 1 Security, AVG Security BE, OfficeScan, Microsoft Defender for Office 365 (MDO), Symantec Mail Security for Microsoft Exchange.
Proofpoint Email Protection Suite, Avanan, Barracuda Email Security Gateway, FortiMail, Trend Micro Cloud App Security, Symantec Email Security.cloud, Symantec Messaging Gateway, Microsoft Defender for Office 365 (Office 365 ATP), Microsoft Exchange Online Protection.
NETWORK SECURITY
Network Firewall: FortiGate NGFW, Check Point Next Generation Firewalls (NGFWs), Sophos XG Firewall, WatchGuard Network Security, Azure Firewall, Hillstone Networks
Firewall Hardware: Netgear ProSafe Firewall, Fortinet Firewalls, Dell EMC Network Security, Hillstone Firewall, Sangfor NGAF Firewall, Juniper Hardware, Juniper bản quyền
ĐIỀU KHIỂN TỪ XA (REMOTE DESKTOP/SUPPORT)
TeamViewer, AnyDesk, Splashtop, Radmin,VNC Connect, Radmin, Microsoft Remote Desktop Services, LogMeIn Pro,VMware Workstation Player, SolarWinds DameWare, NetSupport Manager
CLOUD
Red Hat: Red Hat OpenShift, Red Hat Edge, Red Hat Enterprise Linux, Red Hat Hyperconverged Infrastructure, Red Hat OpenStack Platform, Red Hat Quay
CƠ SỞ DỮ LIỆU
Relational Databases: MS SQL, Oracle Database, MySQL, IBM Db2, Amazon Relational Database Service (RDS), PostgreSQL, Amazon Aurora, SAP HANA, IBM Informix, MariaDB
(NoSQL) Document Databases: MongoDB, Amazon DynamoDB, Couchbase Server, MongoDB Atlas, Percona Server for MongoDB, Google Cloud Firestore, ArangoDB, InterSystems IRIS, Database management, Azure Cosmos DB.
(NoSQL) Graph Databases: Neo4j, ArangoDB,Dgraph, OrientDB, Amazon Neptune, FlockDB, DataStax, Cassandra, Titan, Cayley.
(NoSQL) Key Value Databases: Amazon ElastiCache, Amazon DynamoDB, Redis, Couchbase Server, Hbase, Aerospike, Azure Table Storage, InterSystems IRIS, ArangoDB, Redis Enterprise
Database Management Systems (DBMS): SQL Developer, Toad For Oracle, Oracle Enterprise Manager, MS SQL Server, DataGrip, phpMyAdmin, DbVis, Amazon Athena, db Forge, Snowflake, DbVisualizer, Navicat Premium, Azure Database for MySQL, dbForge Studio for Oracle, dbForge SQL Complete.
MySQL: MySQL Database, MySQL Enterprise Edition, MySQL Cluster CGE.
SAO LƯU DỮ LIỆU
Veritas, Veeam, Acronis, Nakivo, Microsoft System Center, vCenter Server (Vmware), Oracle Database Backup Service, Commvault, Dell EMC Data Protection Suite, Microsoft Azure Backup, IBM Spectrum Protect Suite, SolarWinds Backup, Quest Software, Retrospect, StorageCraft Technologies, Unitrends, Fortinet, Genie9, Backup4all, NovaBACKUP, Spanning, GoodSync, Stellar Data Recovery, NetApp, Backup Everything,  Rubrik, Uranium Backup.
IT INFRAS. MONITORING (ITIM)
Application Performance Monitoring (APM)/ Server Monitoring Software: PRTG Network Monitor, AppDynamics, SolarWinds Server & Application Monitor, Microsoft System Center, Datadog, LogicMonitor, New Relic One, Sumo Logic, Splunk Cloud, Instana, PA Server Monitor, PA Storage Monitor
Cloud Infrastructure Monitoring: PRTG Hosted Monitor, LogicMonitor, Amazon CloudWatch, Datadog, Veeam ONE, Sumo Logic, Microsoft System Center, Epsagon, Centreon, Google Cloud Operations (formerly Stackdriver).
Database Monitoring: Redgate SQL Monitor, Navicat Monitor, Solarwinds Database Performance Analyzer, Oracle Enterprise Manager, PRTG Network Monitor, Zabbix
Enterprise Monitoring: PRTG Enterprise Monitor, Redgate, FusionReactor APM, VMware vRealize Operations, Zabbix, ManageEngine Applications Manager.
Giám sát máy tính: IP-guard, iMonitor EAM, Teramind, SoftActivity, OsMonitor
IT Asset Management Software: Solarwinds ITSM, Ivanti, Lansweeper, PDQ Inventory
EMAIL SOFTWARE
Email Server: MDaemon Email Server, Microsoft Exchange Online, Google Workspace
Email Client Software: eMclient, Outlook
OFFICE SOFTWARE
Tạo tài liệu: WPS Writer, MS Word
Spreadsheets: WPS Spreadsheets, Excel, OfficeSuite, WordPerfect Office (Corel)
Presentation: PowerPoint, WPS Presentation, VideoScribe, iSpring Presenter, Quip, Prezi, Powtoon, Mentimeter.
Office Suites: WPS Office, Microsoft Office, Office 365, Microsoft 365, MobiSystems OfficeSuite, OnlyOffice
PDF Editor: Foxit PDF Editor, Able2Extract Professional, pdfFiller, PDFelement, Nitro Productivity, ABBYY FineReader PDF for Windows and Mac, PDF-XChange Editor, Adobe Acrobat DC, Power PDF, MobiSystems PDF Extra, WPS PDF, Nitro PDF Pro (mới).
Print Management: PaperCut MF, PrinterLogic, Print Conductor.
E-LEARNING/LMS
Articulate 360, Articulate Storyline,  Adobe Captivate, iSpring Suite, Adobe Presenter, Trivantis Lectora, Powtoon
STREAMING SOFTWARE
Video Streaming Server Software: Wowza, Ant Media Server, TeleStream WireCast
Live Video Streaming Software: Vmix, Storm Streaming Server.
KHÁC
Camtasia, Snagit, Phần mềm bản quyền
HỆ ĐIỀU HÀNH, ẢO HÓA
Microsoft: Windows 10, Windows 11, Windows for Business, Windows Server, Cấp phép Microsoft
Red Hat: Red Hat Enterprise Linux, Red Hat JBoss Enterprise Application Platform, Red Hat OpenStack Platform, Red Hat Virtualization
VMware: Fusion, Workstation Player, Horizon Flex, Horizon Standard, Horizon Advanced, Horizon Enterprise, VMware NSX Database, VMware NSX, vRealize Network Insight, vSphere Standard, VMware vSphere, vSphere Enterprise Plus, vSphere Essentials, vSphere Essentials Plus, vCenter Server, VMware vCenter Server Standard, vSAN
MEETING SOLUTION/ SHARING SCREEN
Zoom Meetings, Webex Suite, Microsoft Teams, BlueJeans Meetings, Teamviewer, GoToMeeting, join.me.
COLLABORATIVE WORK MANAGEMENT/ PROJECT TASK/PLAN
Smartsheet, Trello, Atlassian Confluence, Workfront, Asana, monday.com, Microsoft Planner, Wrike, Success, Microsoft Project, Project Plan 365, NTask, Workzone, GanttPro, Scoro, Redbooth, ProofHub, Jira.
ONLINE COLLABORATION
Workstream Collaboration: Slack, Microsoft Teams, Webex Suite
Cộng tác trực tuyến, nhóm/Bảng trắng/Tạo sơ đồ/Lập biểu đồ/ Tư duy: Miro, Asana, Todoist, Teamwork, Trello, Airtable, Facebook Workplace, Wondershare Edraw, Lucidchart, Lucidspark, Xmind, iMindMap, Visio Std, Visio Pro, MindManager, Mural, Invision Freehand, Stormboard, Pingboard, SmartDraw (Whiteboards/Mind Maps/ Task Boards).
Cộng tác nội dung (Content): Google Drive, Microsoft OnDrive for Business, Dropbox Business, Box, Citrix Content Collaboration, FileCloud, Tresorit, ownCloud

IaaS
Amazon Web Services, Microsoft Azure, Google Cloud Platform, IBM Cloud, Oracle Cloud Infrastructure, VMware Cloud on AWS, Alibaba Cloud

E-SIGNATURE (CHỮ KÝ ĐIỆN TỬ)
DocuSign, signNow, Adobe Sign, HelloSign, OneSpan, Foxit Sign, Nitro Sign, GetAccept
3D MODELING, PAINTING SOFTWARE
3ds Max, Unity 3D, Maya, Cinema 4D, Substance Designer, Modo, Zbrush, Adobe Fuse, Mudbox, Realflow, Houdini, FormZ, 3D Coat, PTC Creo, CLO 3D Fashion, Geomagic Freeform, Geomagic Design, Geomagic Wrap, Geomagic for SOLIDWORKS, Autodesk Media & Entertainment Collection, Mari.

RENDERING SOFTWARE (KẾT XUẤT PHIM, ẢNH)
Keyshot, Corona Renderer, OctaneRender, Autodesk Arnold, Lumion, V-Ray, Enscape, Thea Render, Verge3D, Twinmotion, Redshift, Maxwell Render, Artlantis, Flamingo nXt, Blender.
ĐỒ HỌA – THIẾT KẾ – XUẤT BẢN
Chỉnh sửa ảnh: CorelDRAW, ACDSee Ultimate, Adobe Photoshop, Lightroom, Photoshop Elements, Corel Paintshop Pro, Xara Photo and Graphic Designer, Corel AfterShot Pro
Chỉnh sửa, biên tập Video: Adobe Premiere Pro, CyberLink PowerDirector, Corel VideoStudio Ultimate, Pinnacle Studio Ultimate, Magix Movie Edit Pro Premium, Wondershare Filmora, Apple Final Cut Pro, EDIUS Pro
Desktop Publishing Software: Adobe InDesign, Adobe XD, Adobe Spark, Canva for Enterprise, Microsoft Publisher, Foxit PDF Editor, PDFelement, Xara Page & Layout Designer
Vector Graphics Software: Adobe Illustrator, CorelDRAW, Sketch, Affinity Designer, Adobe Capture, Hot Door CADtools
Prototyping Software (thiết kế giao diện, mẫu): InVision, Figma, Adobe XD, Marvel, Axure RP, Zeplin, UXPin, Moqups, Proto.io, HotGloo, Macaw, Maze
Web Design (thiết kế Web): Adobe Dreamweaver, Adobe Muse, Readymag, Sketch, Readymag, Marvel App, Canva, Webflow
Stock Media (kho phim, ảnh): Mua ảnh Shutterstock, Shutterstock bản quyền, Freepick, iStock, Adobe Stock, Flaticon, Flickr
Plug-in: iToo Forest Pack, RailClone, Background Buildings, Bushes and Flowers…, Imagenomic Pro Suite, Portraiture, Noiseware,  Realgrain, Video Suite
DEVELOPMENT (LẬP TRÌNH)
Component Libraries Software: Syncfusion Essential Studio Enterprise Edition, DevExpress, Progress Kendo UI, Progress Telerik UI, Devart SQL Server Data Access Components, MySQL Data Access Components, Oracle Data Access Components, ComponentOne.
DevOps Software: Jira, ClickUp, monday.com, GitHub (Bug Tracking); CircleCI, Postman, Red Hat Ansible Automation Platform, Azure DevOps Server, Azure Automation, vRealize Automation, TeamCity (CI/CD Tools), SoftwareFX Studio FX
Test Automation: LambdaTest, Ranorex Studio, Rainforest QA, Perfecto, ReadyAPI Test, SOAPUI, Telerik Test Studio.
Text Editor: UltraEdit, Froala Editor, Visual Studio Code, Sublime Text, Atom, TinyMCE, Setka Editor, Shorthand, Maqetta, Summernote, Quill.
Help Authoring Tool (HAT): Document360, MadCap Flare, Archbee, Adobe RoboHelp, ClickHelp, Help & Manual, Dr. Explain, HelpSmith, Author-It, HelpNDoc.
IDE: PL/SQL Developer (Allround Automations), Visual Studio, IntelliJ IDEA, PyCharm, Xcode, Eclipse, PhpStorm, WebStorm, Syncfusion, NetBeans, AWS Cloud9, RubyMine, AppCode, Rider, CLion, Delphi, UEStudio, GoLand, Altova, Embarcadero, Flexera,  IDERA, InstallAware, JetBrains, MadCap, Redgate, Sparx Systems, SyncRO Soft / Oxygen XML, Claris FileMaker, Adobe ColdFusion
Dịch mã ngược: Hex-Rays IDA Pro, Hopper Disassembler
PHÂN TÍCH THỐNG KÊ, DỮ LIỆU, ĐỊNH TÍNH, DỰ BÁO, KINH TẾ
Statistical, Econometric, Forecasting, Mathematical, Operational Research and Qualitative Data Analysis software
Minitab, IBM SPSS Statistics, RStudio, Stata, JMP, SAS Base, Nvivo, EViews, Forecast Pro, Gauss, OxMetrics, SigmaPlot,
PHẦN MỀM QUẢN LÝ CHẤT LƯỢNG
Minitab Quality Trainer, Certikit – PCI DSS Toolkit, Certikit – ITIL® Service Transition Toolkit, Certikit – ITIL® Service Operation Toolkit, Certikit – ISO 27001, Certikit – ISO 22301 Toolkit, Certikit – ISO 20000 Toolkit, Certikit ISO 9001 Toolkit, Certikit GDPR Toolkit